The post 10 Things You Didn't Know About Google Meet – SULS0110 appeared first on Shake Up Learning.
In this episode with Shake Up Learning Trainer and Community Manager, Pam Hubler, we explore the
new updates to Google Meet.
Google Meet has become a much more robust video conferencing tool, but there is so much you don't know.
Pam and Kasey discuss 10 Things You Didn't Know About Google Meet, and we learn about the new Shake Up Learning Course, The Google Meet Master Class!
10 Things You Didn't Know About #GoogleMeet
This episode is sponsored by Mote.
Shake Up Learning listeners can get an exclusive 3-month trial for Mote Unlimited by going to justmote.me/shakeuplearning. 
Shoutout
Thank you to @the_lovely_librarian on Instagram for re-sharing a Shake Up Learning post about creative assignments and Blended Learning with Google.
Quick Tip of the Week
Have you ever needed to mute noisy notifications in a tab in Chrome? Or just silence something playing in the background? You can mute a tab in Chrome.
 Watch this quick video to learn how!
Quick Tip Video Library
Subscribe to Shake Up Learning on YouTube
   OR, watch it on TikTok!
10 Things You Didn't Know About Google Meet
Google Meet is all grown up! Over the last couple of years, Google has added some great improvements to this video conferencing tool.
One of the great things about Google Meet is that is simple and easy to use.
But you may not know about some hidden features.
In this episode and post, Pam Hubler, a Shake Up Learning Trainer, will share 10 Things You Didn't Know About Google Meet.
Related: Google Workspace for Education and Other Updates You Need to Know
The NEW Google Meet Interface
Notice, all of the icons and buttons are now consolidated at the bottom of the screen.
You can find all controls in the bottom bar of the meeting window. The bottom bar is always visible.
The meeting code is on the bottom left corner.
When the screen is maximized, a clock appears on the bottom left.
Microphone, camera, captions, hand raise, presentation controls, more options and hang up button are in the middle.
So you don't accidentally hang up, the leave meeting button is on the far right, away from the camera and mic buttons.
Education users can find the Host controls button next to the activities panel.
See What You Are Presenting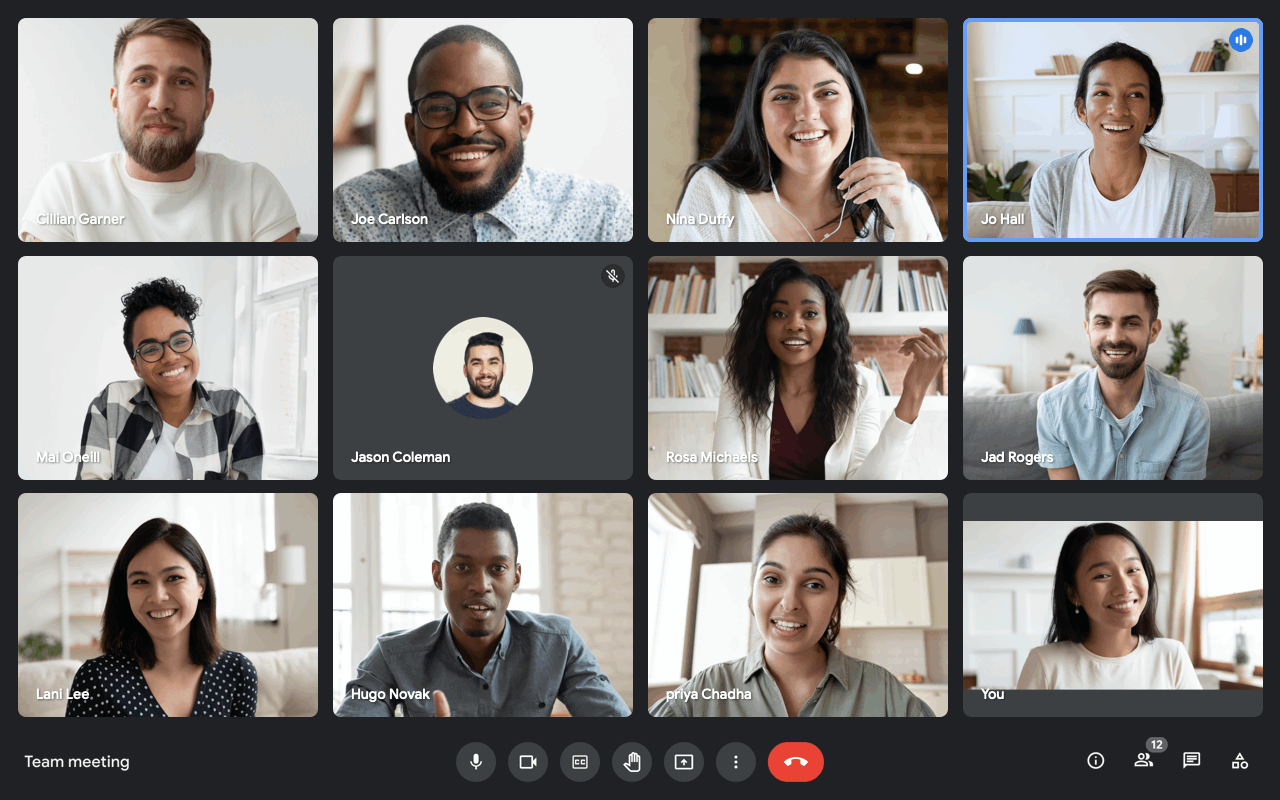 You can now simultaneously see other participants and what you present on-screen. Point to your presentation feed to:
Unpin your presentation to view it as a tile so you can see additional participants.
Mute any audio in your presentation.
Remove a presentation from a meeting when someone joins only to present.
Learn about the new Meet layout.
Related: 10 Google Tips for Remote Learning
1. Change the Layout of Meeting Participants
You can change the layout of a meeting on your screen. (Note: some options will vary by device.)
Layout Options:
Auto—Allow Meet to choose the layout for you.
Tiled—When there is no presentation, this layout shows a grid view of equal-sized images. When there is a presentation, the presentation is shown in a larger format with speakers shown alongside it.
Spotlight—Full-screen layout with the option to display the presentation, active speaker, or participant you pin. When you pin a participant or presentation, they're always visible.
Sidebar—One main image of a participant or the presentation. The images of other meeting participants are on the side.
Learn more about layout options here.
2. Use Captions in a Video Call
Each participant can turn on or off the captions. So if you want students to use this feature, you must show them how to enable it.
Turn captions on or off
On your computer, go to Google Meet.
Join a video call.
At the bottom, click Turn on captions  or Turn off captions .
Change the language
At the bottom of the video call screen, click Menu   Captions .
Choose a language  Apply.
Important: The language you select becomes the default until you change it.
3. Host Controls/Quick Access
The host controls are moving! In the newest version of Google Meet, you will find the host controls (and quick access) under the safety icon.
Quick Access: this feature will provide moderators a "Quick Access" toggle which they can use to control access to an ongoing meeting and prevent unwanted guests.
Quickly turn on or off the ability for students to chat or share their screen.
Note: If a user with the ability to create meetings joins a nicknamed Meet first (before the meeting owner), they will become the moderator and have the ability to engage the lock. It's important that domains that do not want students with moderator privileges limit their video creation privileges.
Locking Dial-in capabilities: with this feature, when a participant dials in via their phone if "Quick Access" is disabled they will have to request access and be explicitly approved to join. This will also prevent others/stu